The guys from Paid & Popular headed down to the design district early last week to check out Culture Kings...





The Paid & Popular blog serves as a collective consciousness for a group of budding young tastemakers from across the U.S.


Here's a few highlights from the interview:

P x P: Why did you guys decide to open up a sneaker boutique?

C: I Opened up Culture Kings because it was a goal of his for a long time; since I was in college. Prior to Culture Kings I was a financial advisor for Merryl Lynch and hated it. The corporate world wasn't really for me, I felt like I'd lost myself.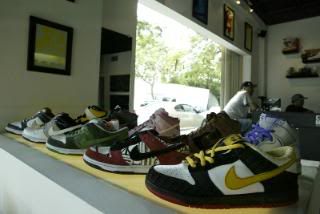 P x P: How did you financially ready yourselves to open up shop?

C: I made a few investments prior to the whole real estate market crashing and while I was in the financial industry; it helped me out big time and I had money from past ventures saved up. With that and a little help from a loan I got it open.


P x P: I've seen pictures of the infamous bathroom, what was the inspiration behind it?

C: Mike was the inspiration for the bathroom sticker design. That's how he does his artwork; by putting a collage of pictures from early 90's magazines. It was his rebellion for the color of the store.




M: You go to the bathroom and do your 30 seconds of business you get to travel back in time. The only thing you can see in the front is product and artwork. In the bathroom you get to go into your own little world. The bathroom is a different world you go in there and you go threw a little journey back in time.

P x P: How long did it take?

M: It started off in pieces. I get in a zone and I just won't stop I can do it pretty quickly. The thing about it is it took a long time to do complete the entire wall. Everything that is in the collage was a collection of things that I've collected from magazine ranging from the last 10 years. In reality it took a lifetime but physically it only took a couple of days...


To read the full interview check out the Paid & Popular site by clicking the P&P logo.




www.PaidandPopular.com



Shoutouts to DJ Louie Arson and all the homies at Paid&Popular!