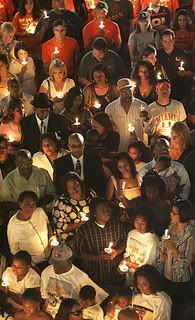 Relatives, friends and teammates eulogized slain football player Sean Taylor on Monday as a man who had found his way to fame, wealth and maturity -- only to lose it to senseless violence at a tragically young age.

''It's times like this that make all of us struggle to find the meaning in life,'' NFL Commissioner Roger Goodell told the crowd.

''The NFL is proud of Sean Taylor,'' Goodell said. ``He loved football and football loved him back. But more important is what he was as a man and what he was becoming as a man.''

About 3,000 people gathered at the Pharmed Arena on Florida International University's main campus to remember Taylor, a star safety for the Washington Redskins, slain last week during an attempted burglary of his Palmetto Bay home.

He was just 24.

''Some plants become flowers, like Sean,'' said the Rev. Jesse Jackson. ``Even champions live in danger. None of us will say, even champions, that our homes are safe. We've accepted violence as the norm. It must be rejected.''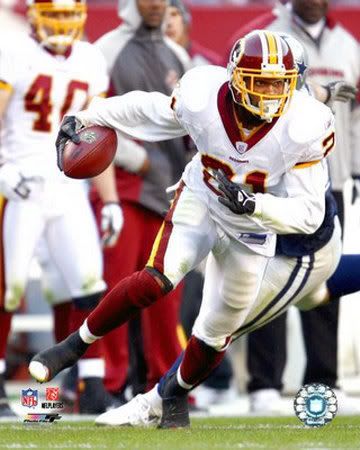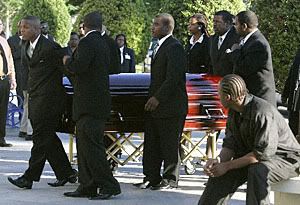 Most of those in attendance wore a pin emblazoned with Taylor's uniform number: 21. Among the songs they heard: Bridge Over Troubled Water. Soloist Tangela Sheppard sang The Lord is My Shepherd as relatives took their seats.

Taylor's 18-month-old daughter sat on her mother's lap in the first row.

The service began with a slide show of photos of Taylor, followed by hymns and prayers, and then remarks by NFL Commissioner Roger Goodell, Redskins owner Dan Snyder, coach Joe Gibbs and several others.

''Sean will never, ever be forgotten,'' said Pastor Alphonso Jackson III. ``God, we put this in your hands today. Help us get through this hour.''

Many tributes flowed even before the memorial service began.

''He always stood up for what was right,'' said Kareem Brown, who played defense with Taylor at the University of Miami.

Now a member of the New York Jets, Brown remained in South Florida after Sunday's game against the Miami Dolphins so he could pay final respects to his friend.

''He was a leader,'' Brown said. ``That's how I'll remember him.''

Inside the arena, guests sat on long rows of white chairs or in the stands. Large floral wreaths framed both sides of Taylor's closed casket, partially covered by a burgundy and gold blanket, the Redskins' colors. One wreath took the shape of a U, decorated with carnations of orange and green, UM's colors.

Among the attendees: many former UM and current National Football League players, including virtually all of Taylor's teammates.

Andre Johnson of the NFL's Houston Texans, who played with Taylor at UM, wore sunglasses and a cream-colored shirt as he made his way into the arena.

''This is something that you hate to see happen,'' Johnson said. ``This day means a lot to me.''

Also in attendance: Actor Andy Garcia, an uncle of Taylor's girlfriend, Jackie Garcia. O.J. Simpson also showed up.

The funeral was moved to FIU's arena because UM's already was booked for a basketball game and being prepared for a presidential debate.

The Redskins flew to South Florida early Monday in the wake of Sunday's gloomy home game against Buffalo, a final-minute loss that shattered the remaining fragments of their fans' hearts.

When the Redskins' defensive unit took the field for its first play, only 10 players lined up -- the football version of the missing-man formation -- in honor of Taylor.

On the other side of South Florida, four young men remained in custody in Fort Myers, charged with murder and other offenses in Taylor's death. Police said the men planned to burglarize Taylor's house, thinking he wasn't there.

He was there, and he was shot last Monday as he surprised intruders and defended his girlfriend, their infant daughter and his home with a machete. Grievously wounded, Taylor died the next day.

A star at the Gulliver Preparatory School and at UM, where he played on the 2001 national championship team, Taylor joined the Redskins in 2004.

He quickly gained a starting position in the defensive backfield and soon emerged as one of the league's most prominent, accomplished -- and fierce -- safeties, earning a trip to the league's most recent Pro Bowl.

On Sunday, a moment of silence was observed in Taylor's honor before every NFL game played around the country.

After Monday's memorial service, Taylor will be buried during a private service in a local cemetery.

''Sean, deep down in my heart, will always be there,'' said Randy Shannon, UM's football coach. ``He will always be a part of this family.''

Miami Herald staff writers Susan Miller Degnan, John Devine and Jennifer Lebovich contributed to this report.